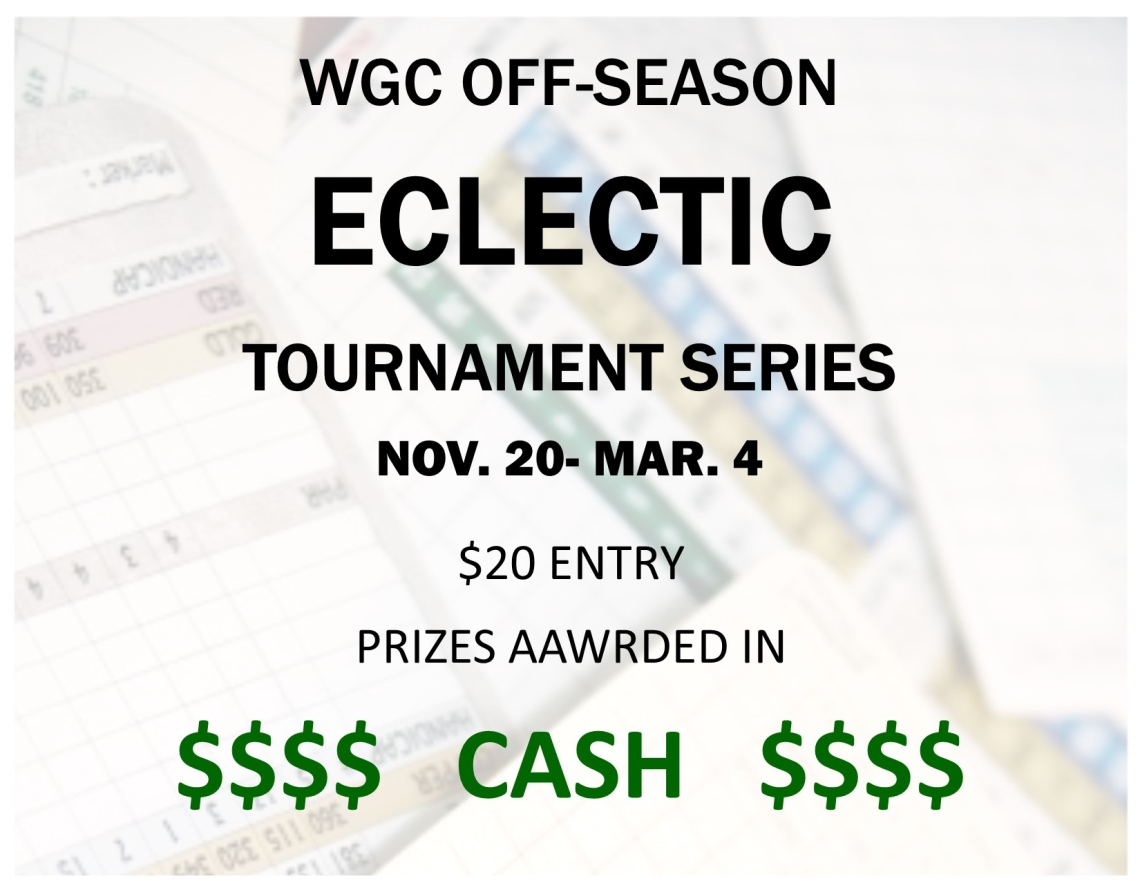 WGC Winter Eclectic Tournament Series
CLICK HERE FOR LATEST LEADERBOARD

FINAL RESULTS AND PAYOUTS (Available March 4)
When is it & who can play?
The Eclectic competition is played throughout the winter off season (November 20—March 4). Participants will be able to count 1 round a week toward their eclectic score. Players must declare to the pro shop before each round is played.
How is an eclectic score calculated?
Your eclectic score for the season is made up of your best score fro each hole during the year. It is a stroke play competition, meaning that the player must hole out on a given hole in order for a score on that hole to be valid for his/her eclectic—there are no "gimmies" in the eclectic!

Handicaps, Payouts & Skins
We will be paying out gross and net prizes. The handicaps used for net will be 65%.
BONUS WEEKS
Once a month players will have the opportunity to add a round to their eclectic scorecard by joining in a Saturday Competition. These will be held on:
Saturday Nov. 25 2 Person Best Ball (Blind Draw) w/individual payouts $15.00
Saturday Dec. 30 Stableford w/individual payouts $15.00
Saturday Jan. 20 Skins w/individual payouts $15.00
Saturday Feb. 17 Cha Cha Cha w/ individual payouts $15.00
Saturday Mar. 3 Season Finale $15.00
How much?
The entry for the season will be $20 per player. This will be put toward the end of the season payout along with some added money from the Bonus Weeks.